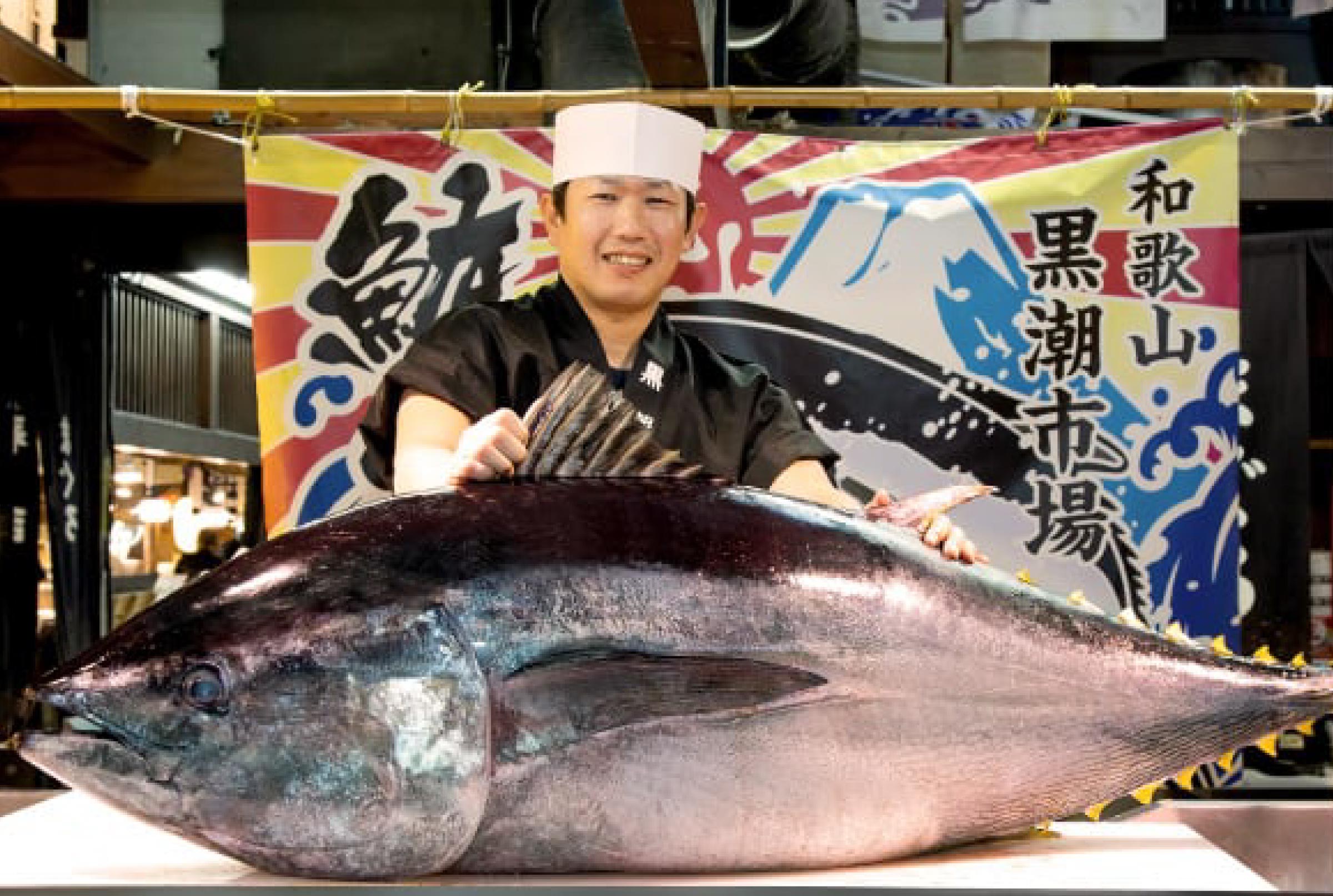 Freshly prepared food for sale! "Tuna Cutting Show" held every day from 12:30
What kind of place is Kuroshio Market?
Enjoy fresh fish, meat, vegetables and more on the grill.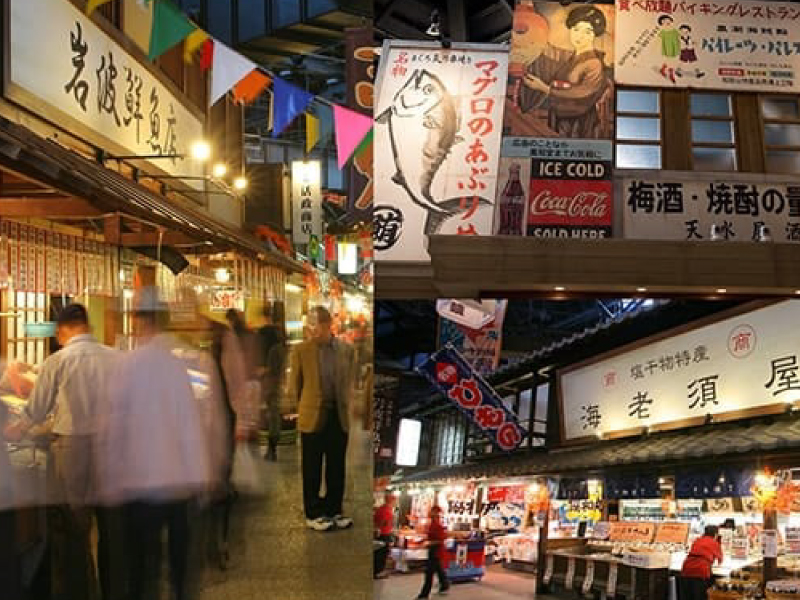 The Kuroshio Market is a well-known fish market where you can eat and buy fresh Japanese fish. It is also a very popular spot among foreign tourists.
Guests can enjoy watching a whole "Tuna Cutting Show"a rare sight in Japan. There are seafood barbecue restaurants as well as Japanese restaurants which serve fresh seafood. In addition, you can also buy fresh tuna and various seafood products to take away with you.
Please do drop by the market while you are visiting the Kansai area.
Highlights of Kuroshio Market
Freshly prepared food for sale! "Tuna Cutting Show" held every day from 12:30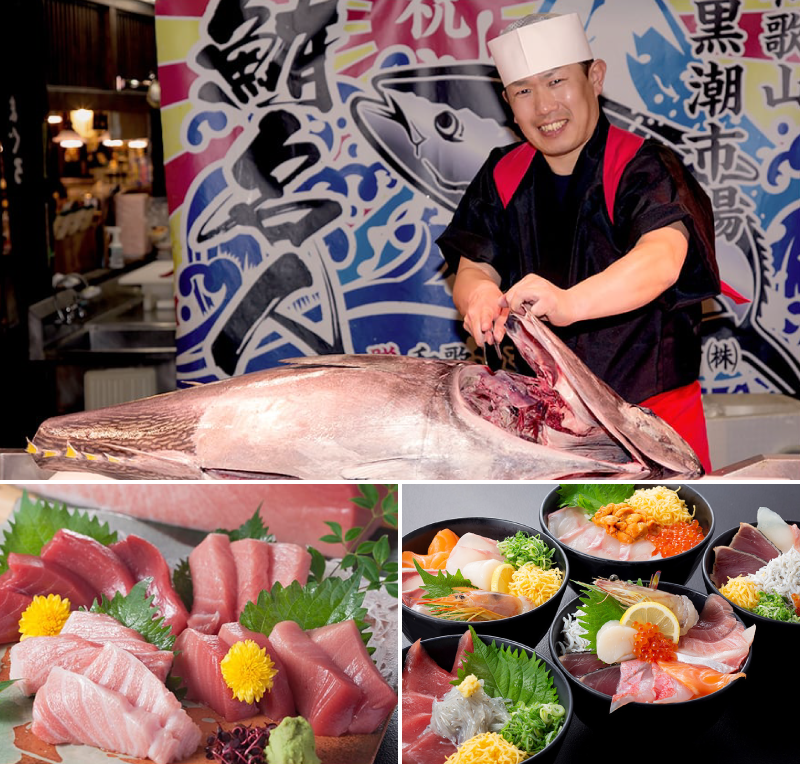 Japanese people like to eat tuna that is freshly caught and in the best condition with good fat.
At our shop, we dismantle it in front of everyone and sell it not only in blocks but also in sushi and rice bowls.
It is an exciting sight that a large tuna is dismantled by the skillful use of a knife by a craftsman.
By all means, when you come to the Kuroshio Market, please see "Tuna Cutting Show" that tuna is sliced ​​in a dynamic way.
Enjoy freshly cut "raw tuna".
We sell large fatty tuna, medium fatty tuna, and red meat at bargain prices.
Product sales corner
Fresh seafood and specialty products unique to the market are plentiful!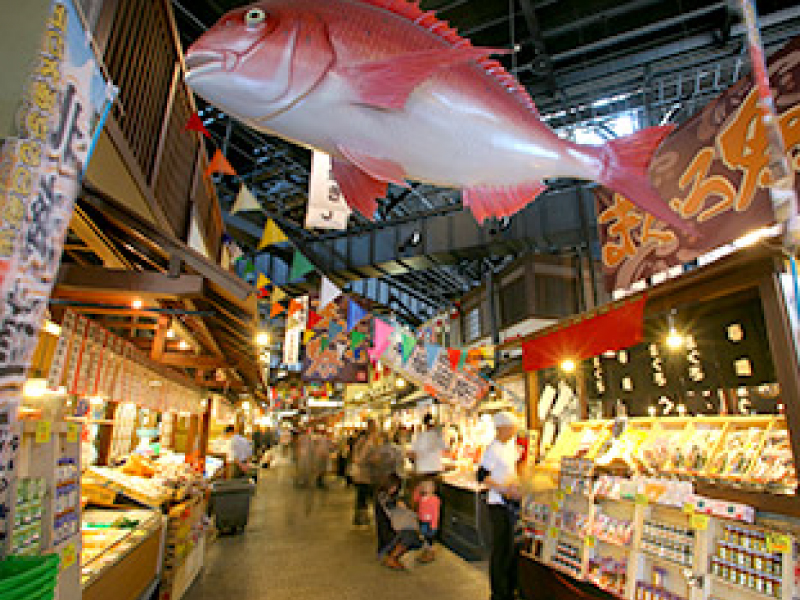 Starting with the freshly cut tuna that was dismantled at the "Tuna Cutting Show", Fresh and live fish from all over Japan, dried fish and delicacies, We have a wide selection of carefully selected seafood.
Please enjoy seasonal seafood unique to the market at home.
Product sales corner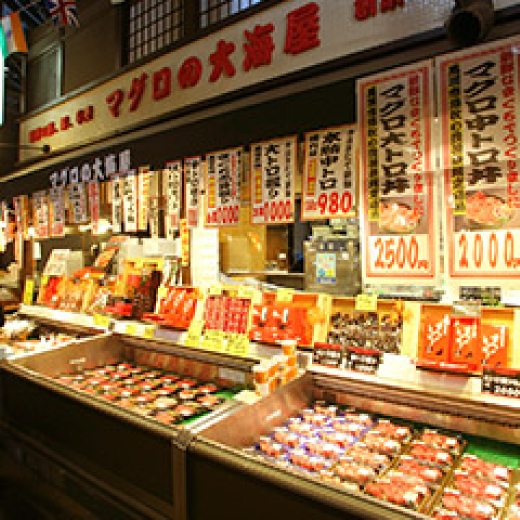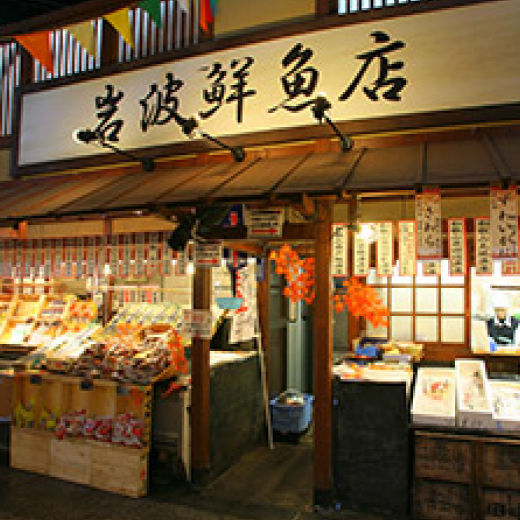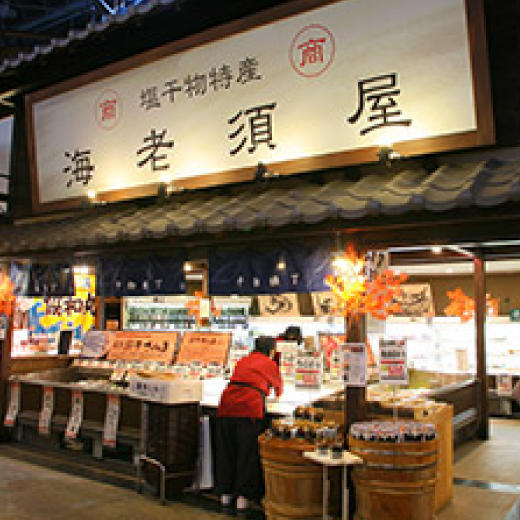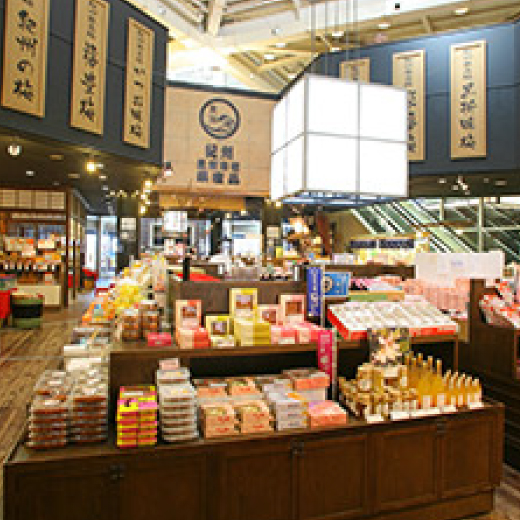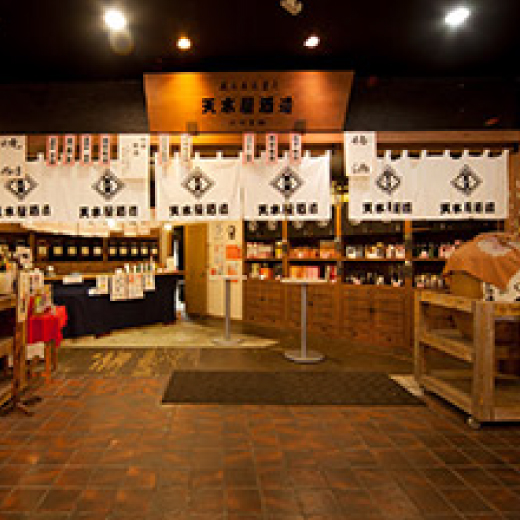 1st floor food court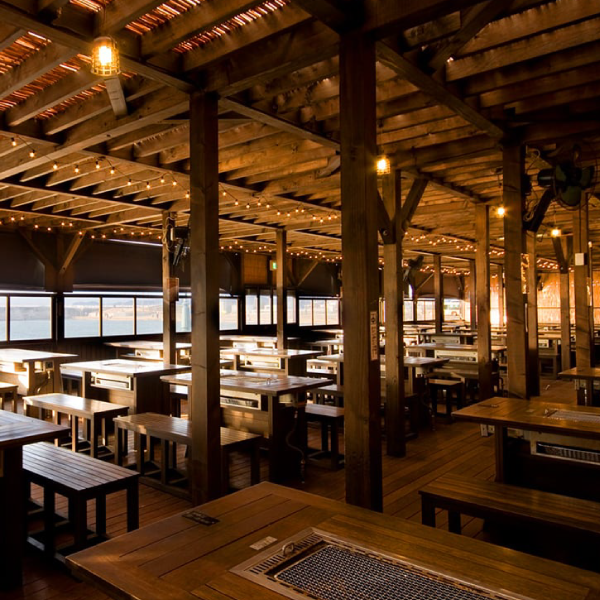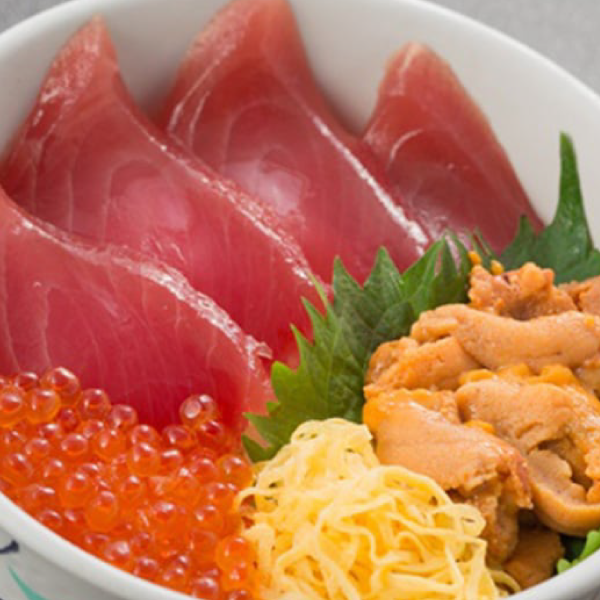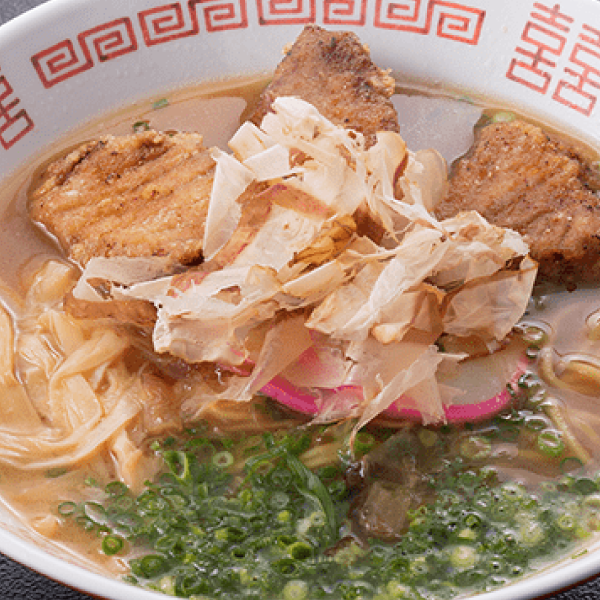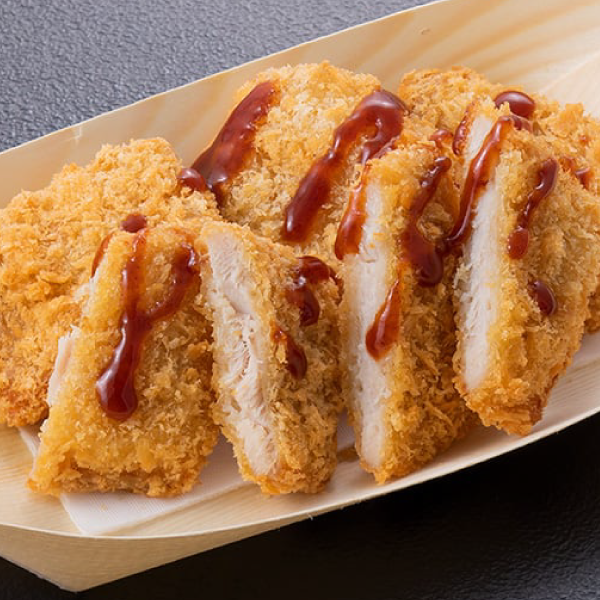 2nd floor restaurant
Hall map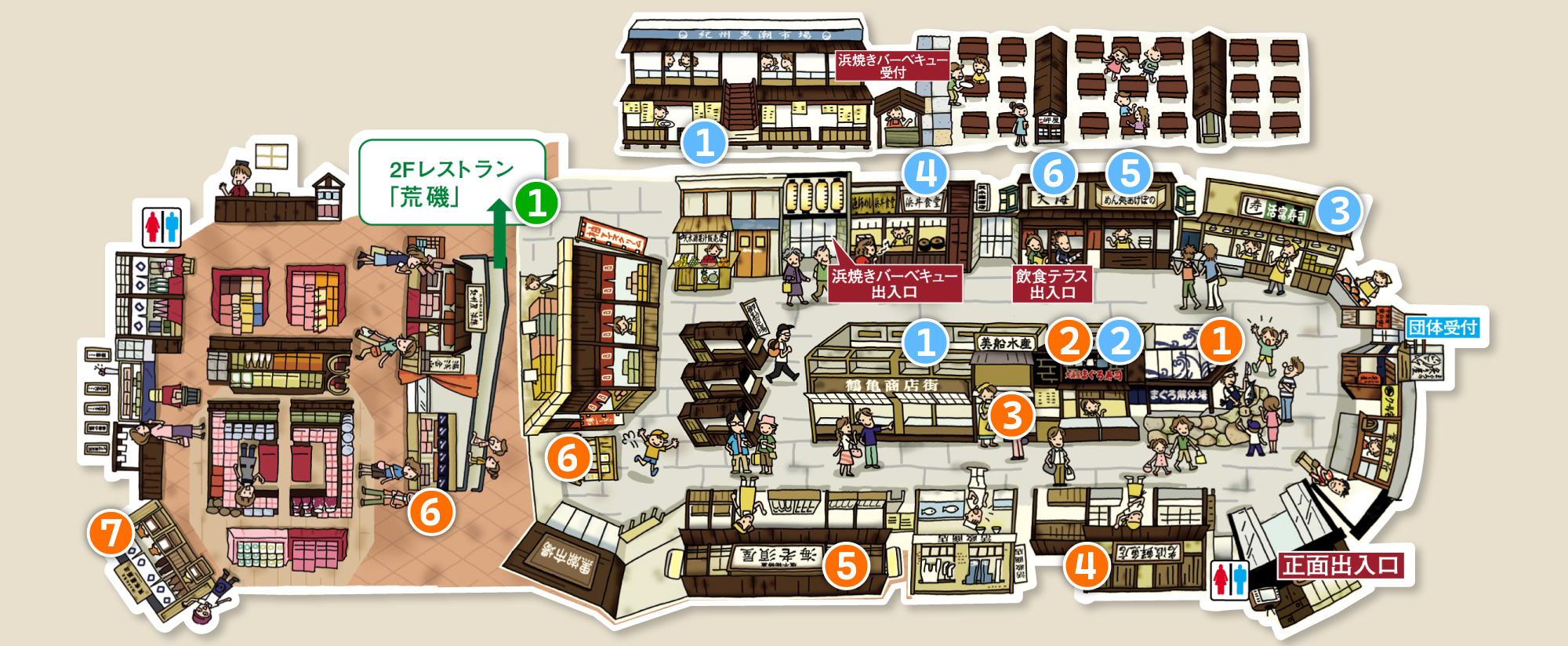 1st floor Product sales corner
(1) Tuna Cutting Show

(2) Maguro Daikaiya

(3) Mifune Suisan

(4) Iwanami Fresh Fish Shop

(5) Ebisuya

(6) Kishuya Hamatoku

(7) Tensuiya Sake Shop
(1) Barbecue

(2) Tuna Sushi

(3) Sushi

(4) Donburi

(5) Noodles

(6) Fried Food